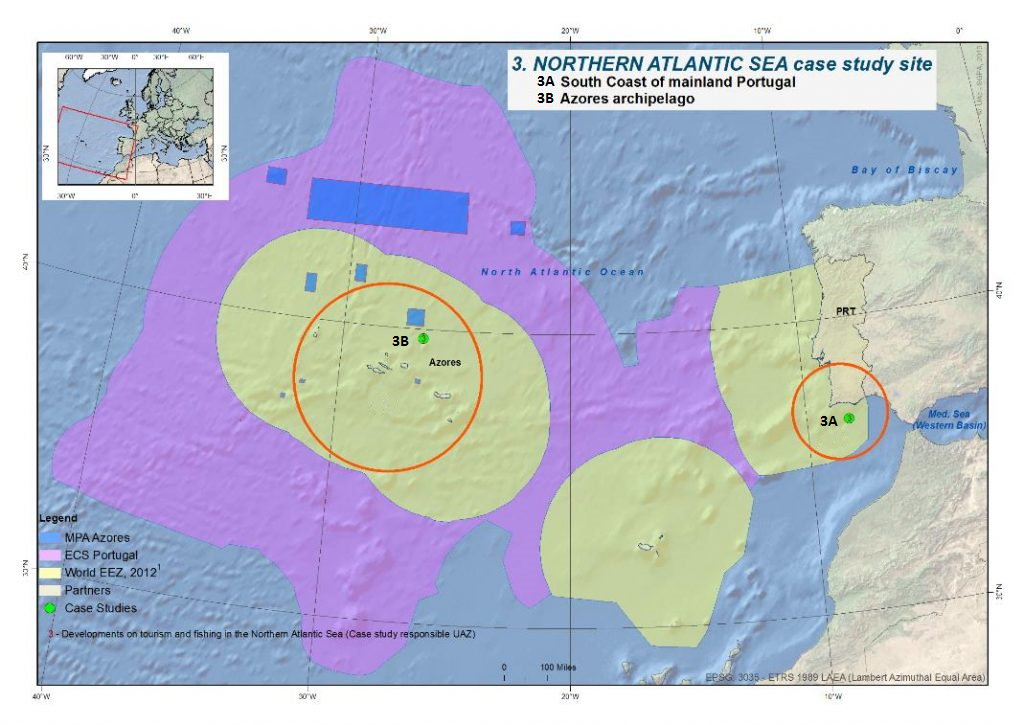 CASE STUDY 3 – SOUTHERN ATLANTIC SEA
Development of tourism and fishing in the Southern Atlantic Sea
This case study is based on two sites in order to cover different Atlantic perspectives: Mainland and wider East Atlantic:
Site 3A – the Southern coast of mainland Portugal (Algarve Coast and Off shore) will be used based on the recent conflict opposing the Tourism Industry (were the Region gets the main GDP parcel, a long standing activity, totally depending on Coastal "Beach and Sun" amenities) and the Oil and Gas Industry, which having surpassed the prospecting phase are now requiring exploitation licences. Concerns about environmental changes or catastrophes are the main arguments, magnified by a still rather confusing licensing procedure for maritime activities in Portugal. Part of this area was also addressed on the TPEA Project as a study for cross border cooperation (PT/Spain) and therefore it will benefit from some previously collected information.
Site 3B – the Azores Archipelago, a Portuguese Autonomous Region, will be used to highlight concerns of Environmental protection through the Azores Marine Park (a network of MPAs both Near Shore, Off shore and in ABNJ). The legal framework of this Marine Park seems to prevent any multi-use except visitation (diving) and observation (marine wildlife watching). However, touristism operators complain of illegal / unreported fishing and environmental degradation of these areas.
The final reports for Case Study 3 are available for download using the following links: