The Alfred Wegener Institute Helmholtz-Center for Polar and Marine Research (AWI) is a foundation under public law and member of the Helmholtz Association – the largest scientific organization in Germany.
The main focus of the working group Marine Aquaculture is to develop concepts and strategies to advance aquaculture systems and practices around the world technologically, biologically and socioeconomically. Our research topics span from foundational to applied research in the fields of land-based recirculation aquaculture systems (RAS) as well as offshore-aquaculture, especially in combination of other users to follow the concept of multi-use.
MUSES Personnel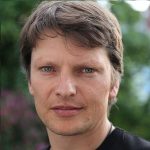 Prof. Dr. Bela H. Buck is the leader of the marine aquaculture group at the Alfred Wegener Institute Helmholtz Center for Polar and Marine Research (AWI) as well as a professor for applied marine biology at the University of Applied Sciences in Bremerhaven. His group is involved in various projects concerning the cultivation of marine plants/animals, the development of technological design and the realisation of pilot projects to commercial enterprises. He is in cooperation with various national/international institutions. His special interests are IMTA as well as the multi-use of offshore installations and areas. He is the Honorary President of the German Aquaculture Association as well as a member of the steering committee of the German Agricultural Research Alliance (DAFA).
Maximilian F. Schupp is a PhD Student in the Marine Aquaculture working Group at the Alfred-Wegener-Institute, Helmholtz Center for Polar and Marine Research in Bremerhaven, Germany. He is working on assessing synergies and risks in marine multi-use scenarios and their implications for policy-makers and regional key stakeholders. He has working experience in trans-disciplinary research projects focusing on the optimization of stakeholder dialogues as well as research and impact assessment and evaluation. He has worked in this field since he graduated with his M. Sc. in Aquaculture from the University of Rostock in 2015.